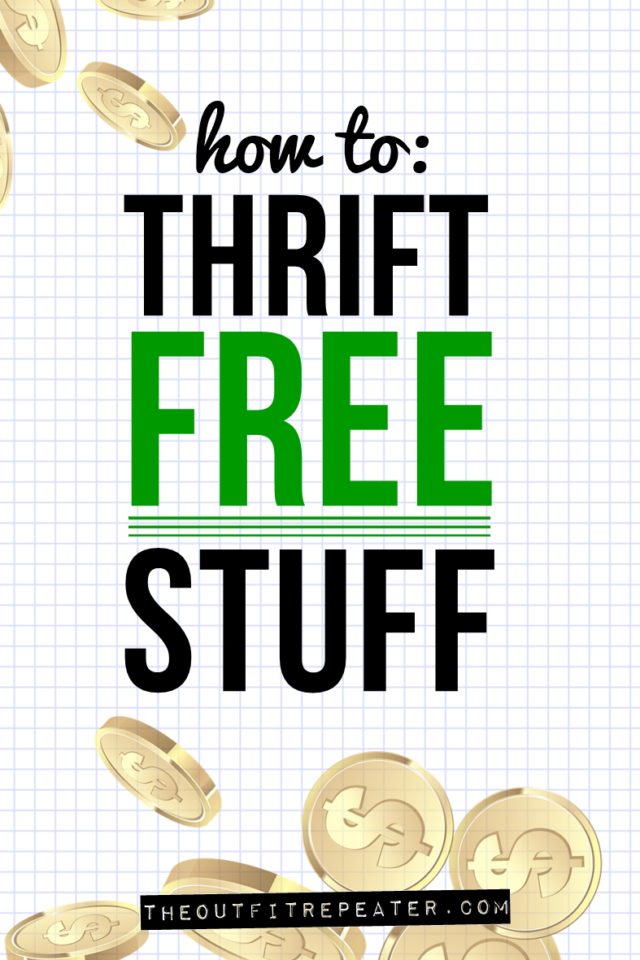 As a thrift store legend, I'm asked time and time again how I manage to score great deals. I really have nothing new to say that hasn't already been plastered all over the internet.
I was raised in a household that was mindful of spending and have always taken advantage of sales, coupons, hand-me-downs, and thrift stores. My thriftiness is really just second nature!
But for those looking for more, read on for my secrets to success…
Thrifting and finding free things takes time but gets easier as you go along and make connections with people who can help you. Here's some of my top tips for saving money the secondhand way:
Use sites like Facebook and Google to search out thrift stores holding sales. I specifically keep an eye out for store closings, they have the most to get rid of and usually want little or nothing in return.
Only buy sale items at the thrift store. This could mean shopping exclusively on sale days, searching out the colored tag items on sale, using a student/senior discount, or my favorite, hitting the clearance racks!
Choose your thrift stores carefully. Never have I ever gotten free stuff at a chain thrift store like Goodwill or Savers. You have to seek out smaller towns and look for shops run by volunteers because they tend to be cheaper and will either let you get away with things (like if they feel bad for something being damaged, they might just let you have it – while Goodwill would be like "your problem now, pay me!"), or some might even have a free box out front.
Participate in a community exchange. Places like apartment buildings, dorm rooms, and other public spaces might have an area to leaves things you don't want anymore. This is different than a lost-and-found box because you're encouraged to take another strangers belongings they left behind.
Thrift online! You can snag some super great deals by shopping for secondhand stuff online. Etsy shops, small business owners, and even apps send out discounts to apply on a future purchase. And yes, I have gotten completely free stuff on the internet. The consignment clothing website ThredUp has a

Give $10, Get $10

offer and has no strings attached. You literally just get a free $10 to spend on their website! You can use my link so we both continue to get free stuff: http://www.thredup.com/r/5IFX61
Annoy your thrifting friends and ask them where the best places to go are. Chances are they know of somewhere not well advertised. I know I've got a few up my sleeve. 😉
Trade in your old clothes at a consignment store. Clean out your closet and sell your old duds to a consignment store. If you get store credit and use it,then that's as good as getting free clothes!
Read your local newspaper. Don't discount old school paper news, they just might surprise you with coupons for your area thrift stores, sale ads, and even a plethora of yard sale listings. One time I found an ad for a nursing home clearing out tons old clothes.. FOR FREE!
Request gift cards as gifts. Got a birthday coming up? Pester your friends and family members to get you a gift card to your favorite secondhand shop. I always consider gift cards to be like free money.
Don't be afraid of charity. I visit a variety of places including a few available for people with lower incomes. (which mine is pretty low) These places take in donations and want to give them to people who really need them. If you're just seeking out stuff to flip on eBay, please don't go to these locations. People who abuse charity for their own profit are not good in my book!
Be open to receiving clothes from friends and family members. You don't have to keep it all but that just gives you an excuse to pass on the wealth to someone else. I frequently clean out my closet and thrift for others and sometimes they surprise me gifts in return. Also, swap parties (Midwest Muse has an awesome post on those here). That way you give & take from your friends and get exactly what you want!
Are you still on the fence and need some more convincing? Just watch my latest video below and check out all the free clothes I found from various places in the month of April. You'll be glad you did!
Be sure to check out my YouTube channel for more of my monthly thrift hauls full of everything you can ever imagine!
BLOGLOVIN | TWITTER | FACEBOOK | TUMBLR | PINTEREST | INSTAGRAM | YOUTUBE